Photography from IBT on ARS cover
Publisher of prestigious magazine Antioxidants & Redox Signaling (IF 8,499 in last 5 years) has decided to put on the cover of this magazine's Volume 22 (No. 11) a photography from a research article written, among others, by researchers from The Institute of Biotechnology CAS, v. v. i.
Researchers from Laboratory of Tumour Resistance and Laboratory of Molecular Therapy led by Jaroslav Truksa and Jiří Neužil, together with colleagues from Czech Republic, Australia and Italy, have published in this volume their research article "Mitochondrially Targeted Vitamin E Succinate Modulates Expression of Mitochondrial DNA Transcripts and Mitochondrial Biogenesis", which is also listed on the very top of
original research articles list
.
The research article discusses mitochondrially targeted vitamin E derivates that are, in higher doses, able to kill tumour cells. However, they have anti-cancer effect also in lower doses, they block grow and division of tumour cells through changes in mitochondria.
The photography shows mitochondrially targeted vitamin E derivate in mitochondria. Red color marks mitochondria, green color highlights derivate. The overlap of these colors in right down corner proves that mitochondrially targeted vitamin E derivate is linked to mitochondria (blue color highlights a nucleus).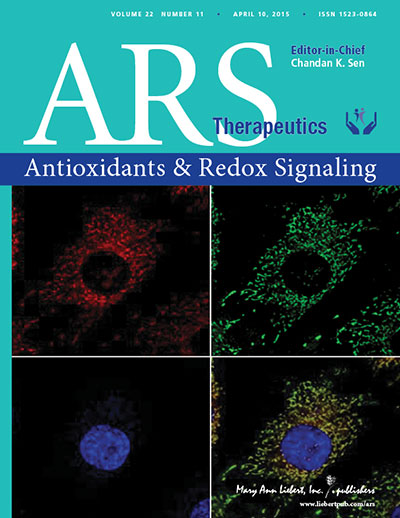 Truksa, J.
, Dong, L.,
Rohlena, J.
, Stursa, J.,
Vondrusova, M.
, Goodwin, J., Nguyen, M.,
Kluckova, K.
,
Rychtarcikova, Z.
,
Lettlova, S.
,
Spacilova, J.
, Stapelberg, M., Zoratti, M.,
Neuzil, J.
Mitochondrially targeted vitamin E succinate modulates expression of mitochondrial DNA transcripts and mitochondrial biogenesis
.Antioxidants & Redox Signaling, 22(11): 883-900, 2015. doi: 10.1089/ars.2013.5594. ISSN 1523-0864.
Researchers from The Institute of Biotechnology are

underlined

.